Certified by NASAA Australia's leading Organic Retail Certification
(R9296)
CropShop - organic markets are a growing thing
writes Joanna Saville
The Sydney Magazine August 2006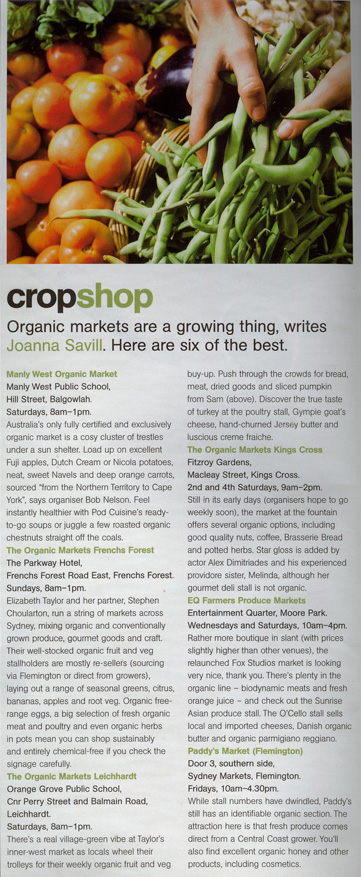 Joanna Savill co-created the Food Lovers' Guide to Australia with Maeve O'Meara. She is a journalist, award-winning TV producer/presenter, seasoned traveller and dedicated food explorer.
This is what she said about Manly West Organic Market:
"Australia's only fully certified and exclusively organic market is a cosy cluster of trestles under a sun shelter. Load up on excellent Fuji apples, Dutch Cream or Nicola potatoes, neat, sweet Navels and deep orange carrots sourced 'from the Northern Territory to Cape York", says organiser Bob Nelson. Feel instantly healthier with Pod Cuisine's ready-to-go soups or juggle a few roasted organic chestnuts stright off the coals."